December 20, 2019 at 4:02 pm
#8228
DSGAdmin
Major

Garrison Web Admin

Garrison Web Admin

Garrison Web Admin

Kellie, I'm very interested in participating as a TK. My nephew was a Make a Wish kid and they did some nice stuff for him. Another organization also helped pay for us to fly back to the east coast to visit him so this would be a small way to help repay that debt. I see that they are requesting specific characters but was curious if my Galactic Academy Gonk and Jawa could also attend in character? They are hooked after going on a couple troops.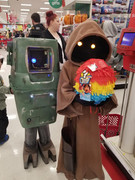 https://i.postimg.cc/PpqmfJ6W/80594405-10158593436462573-2473640234642833408-n-1.jpg" />

Hi Scott! While I would love to have the GAs come along, Dave & Buster's is limiting the number of costumers to 4. If you can still make it, please let me know as we need the TKs.